The Bioinformatics Core Unit is a service-oriented unit which supports BIH research by providing bioinformatics and data analysis expertise, tools and consulting. The Bioinformatics Core Unit collaborates with BIH projects in order to plan, develop and perform bioinformatics and data analysis tasks according to specific project needs. The Bioinformatics Core Unit cooperates with bioinformatics research groups to establish new methods and make them available to all BIH researchers. Based on the results of these projects and cooperation, the Bioinformatics Core Unit provides a growing number of tools, pipelines and websites for data processing and data access.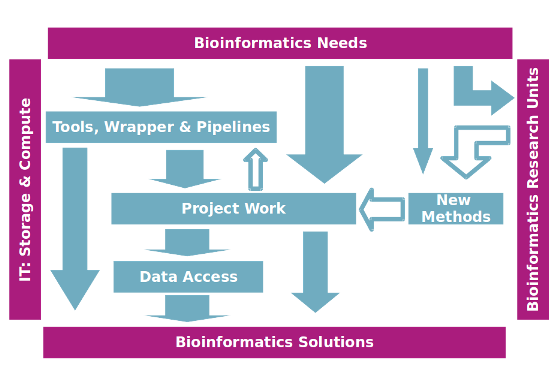 The BIH Core Unit Bioinformatics is organized into application area oriented teams providing contact persons with domain knowledge for specific BIH research programs. Based on the demand from the BIH projects we are currently focusing on the areas of cancer bioinformatics, regulatory genomics and genetics of rare diseases. The different teams cooperate on methods and tools for high throughput data processing and cooperate closely with the other BIH Core Facilities, especially Genomics, Proteomics, Metabolomics and High Performance Computing.
If you plan to work with the BIH Core Unit Bioinformatics in a project, we kindly ask you to involve us in the proposal and planning phase whenever possible. We are happy to support you in optimizing your bioinformatics strategy and provide input to experimental design from the data analysis perspective. For further information please contact Dieter Beule.