The Core Unit Bioinformatics (CUBI) supports BIH researchers with scientific collaborations, services, and resources.
Recent News
"Radar Soldier" Study Published in Nature Scientific Reports

The results of our recent radar soldier study have been published in the article Multisite de novo mutations in human offspring after paternal exposure to ionizing radiation" in Nature Scientific Reports. In this manuscript, we present the results of our pilot study examining the inheritability of ionizing radiation-induced mutations in human. The key outcome is the identification of multi-site de novo mutations (MSDN) as a potential marker of inherited damages of mutations induced by radiation in human. To the best of our knowledge, this is the first article using the MSDN marker in human.
Read more
About CUBI
The Core Unit Bioinformatics (CUBI) of the Berlin Institute of Health is a service-oriented unit which supports BIH research by providing bioinformatics and data analysis expertise, tools and consulting. The Bioinformatics collaborates with BIH projects in order to plan, develop and perform bioinformatics and data analysis tasks according to specific project needs.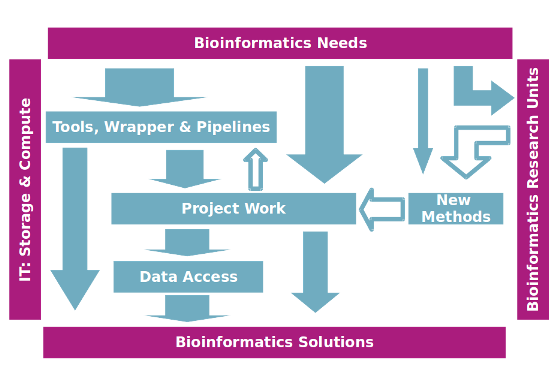 CUBI cooperates with bioinformatics research groups to establish new methods and make them available to all BIH researchers. Based on the results of these projects and cooperation, the Bioinformatics Core Unit provides a growing number of tools, pipelines and websites for data processing and data access.